What is happening?
We will shortly be moving to a new support ticketing system.
We have used self-hosted Kayako Fusion since 2007, but last year they announced that they were ending development of that and were moving to a solely cloud-based system. We have had problems with their system for years that they weren't doing a great job of fixing, so we decided that rather than move to their (quite expensive) cloud-based system we would take the opportunity to look around for alternatives. We could have continued to use the self-hosted version indefinitely, but because it had several annoying bugs and wasn't going to receive fixes or security updates we decided that was not wise in the long term.
Having played around with a few helpdesk systems, including ZenDesk, FreshDesk and others, we have decided to go with Live Agent. This seems to be very good value for money and does most of what we want and is actively developed.
What does this mean for you?
The main thing is that we can't transfer the data from the last 10 years of Kayako into Live Agent, so support ticket history and helpdesk accounts will not be migrated across. We will continue running the old system for the foreseeable future so that these old details are accessible if necessary.
You can continue to email support tickets to support@pscs.co.uk and we will make https://support.pscs.co.uk go to the new helpdesk site.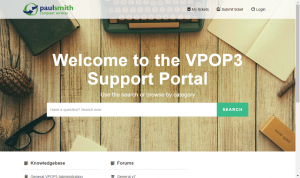 We will be migrating our old knowledgebase and Wiki articles over to the new system, and we will close our forums (which are hardly used) and use the basic Q/A forum system that Live Agent provides, so all those facilities will be accessible using a single login.
Because all the logins are not being transferred over, this means that you will have to have a new login on our new helpdesk system. If you send an email to support@pscs.co.uk, then a new login will be created for you, or you will be able to manually create a login at the helpdesk site. If your login is created by email, then you will need to 'register' at the helpdesk site to obtain a password.
Didn't you change all our logins last year?
Yes. Yes, we did. Unfortunately, we made that change just a few weeks before Kayako announced the end of support for their self-hosted software. We had just spent several weeks modifying our website to use the Kayako user database for everything… Their announcement meant that that change was wasted effort.
For now, your access to the customer portal at www.pscs.co.uk will continue to use the old Kayako passwords, so that may be different from your helpdesk login, but we are looking into integrating those in the future.